• AD&D Modules • Bill Willingham • David De Leuw • Erol Otus • Harry Quinn • Jeff Dee • TSR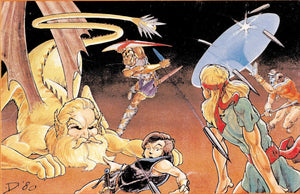 And on this fantastic Tuesday, we'll finish up this series with the final 10! I've included a couple 'non-module' pieces as well to fill out the full 30, but they were still in the same design format.  A format, BTW, that I loved!  How can you go wrong with color front and back, and another b/w illustration cover on the inner booklet!  You basically get three incredible images for the price of one, something I mimic in The Folio!  Anyway, on to the trivia!  How many can you name? (answers below) #1 #2 #3 #4 #5 #6 #7 #8 #9...
---
• AD&D Modules • Bill Willingham • David De Leuw • Erol Otus • Harry Quinn • Jeff Dee • Jim Roslof • TSR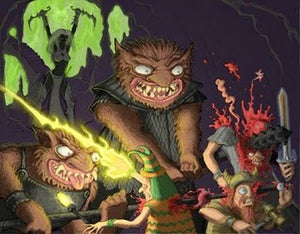 Well, after having so much fun looking over my 'Top 10' classic module covers the other day, I started flipping modules over and looking at the back cover.  Now, it is interesting to note that prior to around 1983, TSR created color back cover artwork for all modules, then in what can be assumed was a cost savings initiative in 1984, started just using text on the back cover of modules.  This meant that 27 original modules had back cover artwork [save Against the Giants which featured an add for all three previous 'giants' adventures].  I find it incredibly sad...
---
• AD&D Modules • Harry Quinn • Jeff Easley • Jim Holloway • TSR
The I series of modules from TSR are certainly an interesting line, and one known primarily for Hickman's Pharaoh trilogy, but that isn't to say those venerable classics are all the line has to offer.The initial offering, I1 Dwellers of the Forbidden City is pure old school art, featuring the talents of 'The First Four', and I3 Pharaoh has entered the full 1980s recast of the TSR pit with all Jim Holloway art, but I2 Tomb of the Lizard King was produced fully in the transition.It still features the new cast, Holloway, Quinn, and Easley, but they are raw here...
---
• Gang Busters • Harry Quinn • Jim Holloway • TSR
What can I say about TSR's Gangbusters Boxed Set that isn't apparent from the outstanding cover? Well, I can say that for many years I'd wrongly assumed that the two color cover pieces for the game were done by artist Jim Holloway when in fact it was his partner in crime [yes, pun intended] Harry Quinn who actually produced these two brilliant pieces for this little loved yet classic RPG.The game takes place in the heart of the prohibition era 1920s with gangs and cops vying for control of Chicago as they try drive Duesenbergs and fire Thompson submachine guns...
---
• AD&D Modules • Erol Otus • Harry Quinn • Jim Holloway • Jim Roslof • TSR
Today I'm going to take a look at the artwork from TSR's X2: Castle Amber (Chateau d'Amberville). Now I've only played this module once, back in probably 1987 in my little room upstairs at my mom's house with my old DM Mark and his neighbors Aaron and Jay. Truly, I don't remember too much about the adventure save that it was one of the first ones where I ever ran one of my most powerful characters of all time, the eventual Hierophant of Cabal, Belmarillian the Watcher.There is a room [spoilers follow] in which characters are beset by mysterious dreams,...