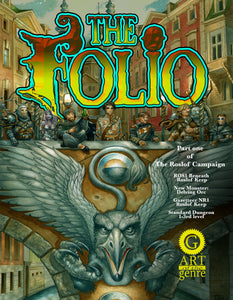 Scott Taylor
THE FOLIO #1 [PRINT EDITION]
Regular price
$9.99
Sale price
$14.99
Unit price
per
AotG is the only place to purchase a new, shrink wrap, copy of The Folio #1: Roslof Keep Campaign.  Supplies are limited for this print edition, so get them while you can. 
Content Includes: 2D 'Blue Map', 3D Dungeon Map + 3D Roslof Keep Setting Map, Removable 'Old School DM Screen' Cover, Dungeon Adventure Module, Roslof Keep Gazetteer and Campaign Setting, Monster Section, New Monster 'Delving Orc'.
Product has a full color cover, color booklet covers, and is 40 total pages, featuring artwork by gaming legends Jim Roslof & Jeff Laubenstein, with new contributions by Travis Hanson & Michael Wilson.  Also includes, 'Ramen Doodles' RPG fantasy humor cartoon.
---