It is an interesting question, right?  I've played a lot of D&D the past 30 years and even with a few women, and a couple did play clerics, but in reality, the bulk of clerics played have been NPCs, and of those, I'd say 80% were beautiful women.  Is this common, or am I in the vast minority? Whatever the case, here are some lovely ones for you to peruse. Yep, absolutely been there... She carries a big mace, is this Pathfinder? :) Yes I played 2nd Edition, and yes, I enjoyed it. I think one of my characters dated...
---
• D&D • Larry Elmore • TSR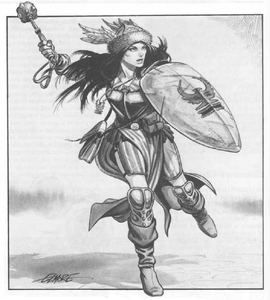 You could make that argument that Easley, Parkinson, or Caldwell shaped the destiny of D&D and TSR in the early 1980s, but in reality that is like comparing the Rolling Stones, Pink Floyd, or the Eagles to The Beatles.  At the end of the day, any sane person knows there is no comparison as they are all had a telling impact on the industry.  Below are some pieces from Larry Elmore I think changed the landscape of the RPG industry, and I'd love to hear if you agree or disagree. Mentzer 'Red Box'... Now if the Red Box isn't as...
---
• D&D • Jeff Easley • TSR
Pulp, Sexy, Prophetic, and Bold, are all words to describe the painting genius of TSR legend Jeff Easley.  Here, collected for your pleasure, are ten of the finest pieces from his years working on Dungeons & Dragons. Dungeon Master's Guide, Recover.  If there has ever been a Dungeon Master, rendered in oil, this is him... Dragonlance helped define a generation, as did a dozen of Jeff's most stunning imagery. Although never considered a Caldwell or Elmore where ladies were concerned, Jeff could nonetheless paint a inspirational female figure, this one from the cover of Tome of Magic. The cover to...