• AD&D Modules • Bill Willingham • Erol Otus • Jeff Dee • Jim Holloway • TSR
Well my fine readers, if you enjoyed yesterday's post, here are another 10 back covers for you to both remember and try to identify! #1 #2 #3 #4 #5 #6 #7 #8 #9 #10 As ever, the answers are below, but remember, if you are a gamer and love what we do here at AotG, please help with our classic module Kickstarter, The Folio 1E module! Check us out on the banner to your right, with $5 PDFs and $15 physical modules available! Or try the hotlink here: https://www.kickstarter.com/projects/563681582/the-folio-1e-module-relaunch #1: C2 The Ghost Tower of Inverness - Jeff Dee #2:...
---
• AD&D Modules • Bill Willingham • David De Leuw • Erol Otus • Harry Quinn • Jeff Dee • Jim Roslof • TSR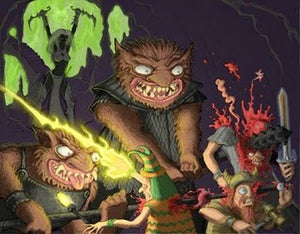 Well, after having so much fun looking over my 'Top 10' classic module covers the other day, I started flipping modules over and looking at the back cover.  Now, it is interesting to note that prior to around 1983, TSR created color back cover artwork for all modules, then in what can be assumed was a cost savings initiative in 1984, started just using text on the back cover of modules.  This meant that 27 original modules had back cover artwork [save Against the Giants which featured an add for all three previous 'giants' adventures].  I find it incredibly sad...
---
• AD&D Modules • clyde caldwell • Erol Otus • Jeff Dee • Jim Holloway • Jim Roslof • Tim Truman • TSR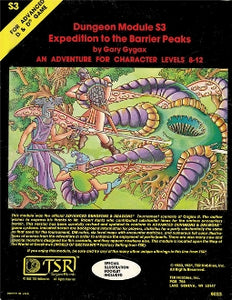 Today I'm going to compose a list of my personal favorite D&D module covers from TSR circa 1981-1987. Hopefully you all will remember these fondly as well.#10. B3: Palace of the Silver Princess – Erol Otus #9. U3: The Final Enemy – Dave de Leuw #8. B4: The Lost City – Jim Holloway #7. X1: The Isle of Dread – Jeff Dee #6. M1: Blizzard Pass – Tim Truman #5: T1: The Village of Hommlet – Jeff Dee #4: I6: Ravenloft – Clyde Caldwell #3: I3: Pharaoh – Jim Holloway #2 S1: Tomb of Horrors – Jeff Dee #1 D1-2:...
---
• Bill Willingham • Erol Otus • Jeff Dee • Jim Roslof • TSR
The 1981 release of the Tom Moldvay edition of D&D Basic was before my time. I was 10 when this book was published by TSR for the final time, and I wouldn't enter the hobby until the Red Box two years later.Still, the nostalgia content for the Moldvay box still resonates heavily in the OSR today, the bulk of players remembering it fondly right alongside the Trampier PHB and the Sutherland MM and DMG. When taking a look at it today, I'm moved by the interior artistic content since it captures a perfect era in the TSR evolution, something...
---
• AD&D Modules • Bill Willingham • Erol Otus • Jeff Dee • Jim Roslof • TSR
If you are an old school gamer, then you probably have a vague memory of the first D&D product you ever saw. For me, those visions of the past cycle around three distinct images, none of which I'm exactly sure were really 'the first'. One, of course, is Elmore's cover of the Red Box, viewed in the Sears Christmas Catalogue. Two, would be Jim Holloway's cover for Dragon Magazine #88 owned by a fellow student in my 7th Grade art class who sat across from me. Third, would have been Jim Roslof's cover for A2 Secret of the Slavers Stockade...