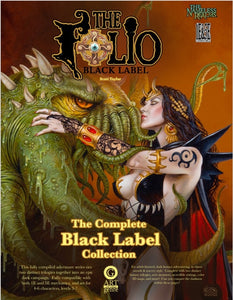 Art of the Genre
THE COMPLETE BLACK LABEL [HARDCOVER]
Regular price
$45.00
$0.00
Unit price
per
This 128 page adventure path is broken into two distinct trilogies.  The first deals with beginning characters taking on the various mysteries of The Barrens.  The second trilogy deals with the legendary Ash Lands which surround the Burning City. 
Each campaign features three dungeons, dastardly enemies, and 3D maps.  Also, don't forget the sexy centerfolds, as the Black Label is NOT for the faint of heart when it comes to sex in RPGs. 
Gaming formats inside the Complete Black Lable are for both classic AD&D as well as 5th Edition D&D, and level requirements range from 1st-6th.

---