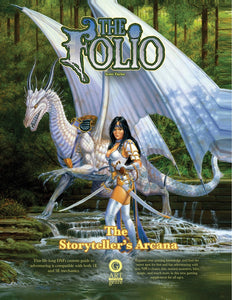 Art of the Genre
THE STORYTELLER'S ARCANA [HARDCOVER]
Regular price
$40.00
Sale price
$50.00
Unit price
per
Over the course of decades, gaming knowledge has been passed down, refined, and shared within the confines of tabletop RPGs.  Dungeon Masters have spent countless hours creating new challenges for players, sometimes off the cuff, sometimes stolen from fantasy and science fiction media, but no matter the initial inspiration point, adventure abound.
Within these pages you will find all the secrets from the gaming tables of Art of the Genre, including takes on fantastic versions of modern media trope NPCs, new spells, boss monster one shot encounters, as well as the rules I live by for running a campaign with depth beyond experience points. 
Gaming formats inside the Storyteller's Arcana are for both classic AD&D as well as 5th Edition D&D. 
---