• Battletech • David Deitrick • FASA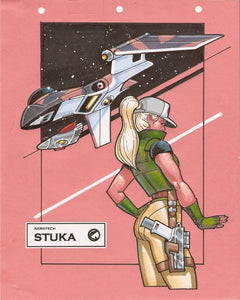 I make no bones about being an unabashed David Deitrick lover, both as a person and as an artist, so it really makes me angry that his art no-longer appears in science fiction publications.  Maybe we've moved past his style, as it seems when last years Battletech Kickstarter refused to allow him to provide artwork (along with Holloway, so thanks much Catalyst!) when the video game was set pre-clans, right in the wheelhouse of his work at FASA during the 80s.  Whatever the case, I've still managed to get David to do some work in Battletech over the years, so...
---
• Battletech • Earthdawn • Jeff Laubenstein • MTG • Shadowrun
I make no bones about artist Jeff Laubenstein being my favorite fantasy artist of all time.  Maybe that makes me odd, or maybe it makes me a genius, but whatever the case, there is no argument with the fact that Jeff has been doing RPG work for thirty years, and his contributions to non-D&D are astounding.  Today, I look at just random pieces of his that have always brought me joy. The 'Ladies Laubenstein', certainly a subject matter of his that has always kept my interest A nice trio of characters, and he certainly has a way with creating distinct...
---
• Battletech • FASA • Jim Holloway
I've got to admit, some of my favorite writing comes from the early years of FASA's Battletech game. I've always been intrigued by the alternate future timeline, and there were so many great supplements to game pre-clans. There was also a massive amount of great artwork featuring Tim Bradstreet, Jeff Laubenstein, David Deitrick, and of course Jim Holloway.I tend to view this period, roughly 1985-1991 as Holloway's golden age, and although his skills never deteriorated like some artists, his passion waned and I think that took the shine off of most of his artwork. That is certainly not the case...
---
• Battletech • David Deitrick • FASA
The Galtor Campaign is one of perhaps a dozen scenario driven supplements for Battletech released in the late 1980s. All of them were quality works, as was the practice of FASA in that day and age, but I found Galtor to be my favorite because it was one of the few FASA products other than Star Trek that we got to see a David Deitrick painted cover.Deitrick's work on this supplement makes this product sing in a fashion that only he was capable of for the Battletech product line. Sure, Jim Holloway had several stunning covers, but if you really...
---
• Battletech • Dietrick • FASA • Laubenstein
I've spoken on other forums about my feeling concerning the Battletech House supplements and how they might be the best historical fiction works I've ever read [Only the 'Way' books for L5R 1E could be better] Today I take a look at one of those incredible tomes of inner sphere knowledge, with House Liao and the Capellan Confederation.  When I played the game, House Liao was always my least favorite House as I was raised in the cornfields and Indiana and had almost nothing to reference China in my mind other than it seemed distant and old.  That was certainly...