• AD&D Modules • Bill Willingham • Erol Otus • Jeff Dee • Jim Holloway • Jim Roslof • TSR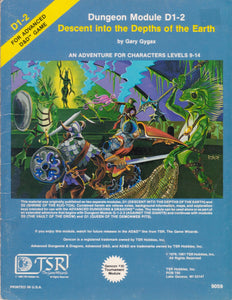 Other than perhaps the various AD&D core books (yellow/orange spine) I find little that can inspire me more than the art of the classic AD&D module series from TSR.  Today I'm going to give you my favorite 10 images from those heady days.  Enjoy! How beautiful is this classic Erol Otus drow priestess?  Sublime! When I think of giants in D&D, this is what always comes to mind. Thank you Bill Willingham, and also thanks for showing me that my tanks don't need pants! Classic good vs. evil by Jeff Dee!  Did he ever do a Kickstarter for this one?...
---
• Bill Willingham • Dragon Magazine • Erol Otus • Jack Crane • Jeff Dee • Jim Holloway • Jim Roslof • Todd Lockwood • TSR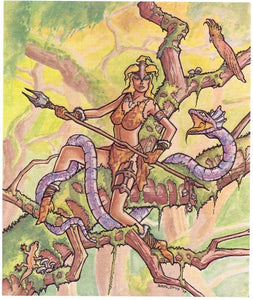 So yesterday I was reminded by artist Brian 'Glad' Thomas the Jim Holloway's first Dragon Magazine cover was actually #41.  This prompted me to take a look at that issue, and as I did, I noted just how many classic artists had b/w (and even color) pieces I'd never really known about before in there.  An hour, and five issues, later, I'd filled a nice little file with some really outstanding images that I thought I'd share with you all today, so I hope you enjoy! Good old Jack Crane had more than I realized in these issues, and I...
---
• Jim Roslof • TSR
Today, as I enjoy work on ROS3 and my Roslof Keep series in The Folio, I can't help thinking about Jim Roslof and all the incredible black & white illustrations he did over the years. To say that I'm a fan is obviously a huge understatement, so I thought I'd just take a few moments to share some of Jim's images that have always appealed to me. Having had the honor of sitting in his drafting chair at his studio and going over how his process worked, I can't help but see the joy he felt in creating for the...
---
• AD&D Modules • Bill Willingham • David De Leuw • Erol Otus • Harry Quinn • Jeff Dee • Jim Roslof • TSR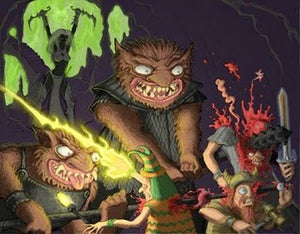 Well, after having so much fun looking over my 'Top 10' classic module covers the other day, I started flipping modules over and looking at the back cover.  Now, it is interesting to note that prior to around 1983, TSR created color back cover artwork for all modules, then in what can be assumed was a cost savings initiative in 1984, started just using text on the back cover of modules.  This meant that 27 original modules had back cover artwork [save Against the Giants which featured an add for all three previous 'giants' adventures].  I find it incredibly sad...
---
• AD&D Modules • clyde caldwell • Erol Otus • Jeff Dee • Jim Holloway • Jim Roslof • Tim Truman • TSR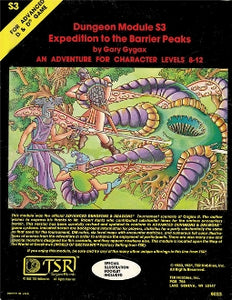 Today I'm going to compose a list of my personal favorite D&D module covers from TSR circa 1981-1987. Hopefully you all will remember these fondly as well.#10. B3: Palace of the Silver Princess – Erol Otus #9. U3: The Final Enemy – Dave de Leuw #8. B4: The Lost City – Jim Holloway #7. X1: The Isle of Dread – Jeff Dee #6. M1: Blizzard Pass – Tim Truman #5: T1: The Village of Hommlet – Jeff Dee #4: I6: Ravenloft – Clyde Caldwell #3: I3: Pharaoh – Jim Holloway #2 S1: Tomb of Horrors – Jeff Dee #1 D1-2:...