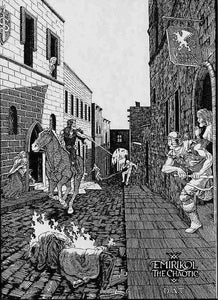 It is a question I often ask myself, but today I thought I'd throw in a few that always got me wanting to play.  What are some of yours?
---
• AD&D Modules • Bill Willingham • Dave Trampier • David Sutherland III • Jeff Dee • TS • TSR
During the course of my gaming life I've run and been run in G-1-2-3 four times, and you know what, I want to do it again. To say I love these modules is an extreme understatement. They are the perfect blend of crawl, epic journey, experience points, and treasure. There is truly a perfect balance of all those things that make everything about them SO worth it. In fact, I've dedicated an area of the Nameless Realms to the location of these modules just so my Fleetwood family can continue to go back every few generations when the giants...
---
• Dave Trampier • Gamma World • TSR
I was at my yearly game retreat last March and one of my friends had a copy of the third printing, of the initial release, of Gamma World by TSR in 1981. Since the game had been designed in 1978 by James M. Ward and Gary Jaquet, it had a certain old school feel, but it wasn't until I actually picked up a physical copy and held it in my hand that I realized all the artwork for it was done by Dave Trampier.That simple fact alone makes this version of the game highly important to the hobby in...
---
• Dave Trampier • Elmore • Larry Elmore • Star Frontiers • TSR
It would be very hard to count all the words written about artist David Trampier, the bulk of which revolve around half a dozen pieces of artwork known to pretty much every old school gamer. You all know what I'm talking about, the 1E Player's Handbook, the original DM's Screen, the hunchback Hill Giant, Emirikol the Chaotic, Wormy, and arguably many more. Still, these are all spot illustrations or stand-alone covers as Tramp was ever sharing space with other contemporaries of his day.I mean really, what would it have been like to have Tramp do ALL the art inside a...
---
• AD&D Modules • Dave Trampier • Jeff Dee • TSR
The 1980 release of the colorized cover edition of T1 The Village of Hommlet is certainly a foundation of the RPG industry and an iconic piece for almost any role-player brought into the game from the late 1970s all the way up to 1990.Truly, it is an incredible piece of work, penned by Gary Gygax and established as 'the' introductory module for the new Advanced Dungeons & Dragons system. Now certainly, B2 Keep on the Borderlands and X1 Isle of Dread might be more popular because they were included in the Basic and Expert boxed sets respectively, but again, that...