• Battletech • David Deitrick • FASA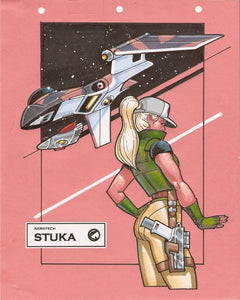 I make no bones about being an unabashed David Deitrick lover, both as a person and as an artist, so it really makes me angry that his art no-longer appears in science fiction publications.  Maybe we've moved past his style, as it seems when last years Battletech Kickstarter refused to allow him to provide artwork (along with Holloway, so thanks much Catalyst!) when the video game was set pre-clans, right in the wheelhouse of his work at FASA during the 80s.  Whatever the case, I've still managed to get David to do some work in Battletech over the years, so...
---
• Battletech • David Deitrick • FASA
The Galtor Campaign is one of perhaps a dozen scenario driven supplements for Battletech released in the late 1980s. All of them were quality works, as was the practice of FASA in that day and age, but I found Galtor to be my favorite because it was one of the few FASA products other than Star Trek that we got to see a David Deitrick painted cover.Deitrick's work on this supplement makes this product sing in a fashion that only he was capable of for the Battletech product line. Sure, Jim Holloway had several stunning covers, but if you really...