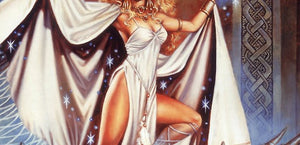 Now I know I've said before that Clyde always liked to use a wide variety of live models, and it is true, but if there is one thing about Clyde's work that is indisputable, it's that his models had something in common... Jeff Easley once referred to Clyde as 'The Thighmaster', and I can't go against that moniker, but I will say Clyde is also a fan of breasts as much as he is thighs (so I always like calling him Colonel Sanders), even if TSR tried to reign him back over his years there.  So, did Clyde actually have...
---
• Clyde Caldwell • TSR
I once took a trip to Wisconsin to spend a few days with artist Jeff Easley at his home. It was a great trip, and I got to see lots of outstanding artwork, but one thing that always stood out to me was when Jeff would discuss other artists he'd worked with over the years. As we talked about them, Jeff always seemed to come up with an interesting anecdote or nickname, but of all these, his nonchalant utterance concerning Clyde Caldwell was my favorite. He affectionately referred to Clyde as 'The Thigh Master'.To this day, I still get an...
---
• Clyde Caldwell • TSR
I'm going to admit that are many occasions when I buy gaming supplements for no other reason than the artwork, and that certainly proved true with my purchase of The Book of Marvelous Magic. Written for the Basic D&D System by Frank Mentzer and Gary Gygax in 1985 [and oddly there are a LOT of 1985 products produced by Gary upon his brief return to TSR from Hollywood and before his ouster in August of that year], this 76 page magical item compendium lists over 500 new magi items.Now in 1985, Unearthed Arcana was produced for the AD&D system, so...
---
• Clyde Caldwell • Jeff Easley • Keith Parkinson • Larry Elmore • Star Frontiers • Tim Truman • TSR
Like every single non-D&D title TSR had in the mid-1980s, Star Frontiers met a quick and profound end.  I lamented it leaving the hobby, especially with the inclusion of Zebulon's Guide to Frontier Space, but those were the breaks for Boot Hill, Gangbusters, Gamma World, and this beloved science fiction series.  Whatever the case, I still love to take a look at the 'color' of the game and imagine what could have been if Easley, Elmore, Parkinson, Caldwell, Truman, Roslof, Trampier, and Holloway had gotten another half dozen years to create inside the frame.  It is one thing we will...
---
• AD&D Modules • clyde caldwell • Erol Otus • Jeff Dee • Jim Holloway • Jim Roslof • Tim Truman • TSR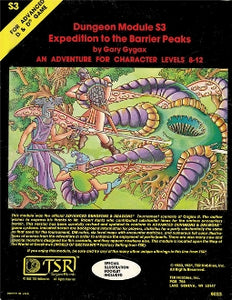 Today I'm going to compose a list of my personal favorite D&D module covers from TSR circa 1981-1987. Hopefully you all will remember these fondly as well.#10. B3: Palace of the Silver Princess – Erol Otus #9. U3: The Final Enemy – Dave de Leuw #8. B4: The Lost City – Jim Holloway #7. X1: The Isle of Dread – Jeff Dee #6. M1: Blizzard Pass – Tim Truman #5: T1: The Village of Hommlet – Jeff Dee #4: I6: Ravenloft – Clyde Caldwell #3: I3: Pharaoh – Jim Holloway #2 S1: Tomb of Horrors – Jeff Dee #1 D1-2:...