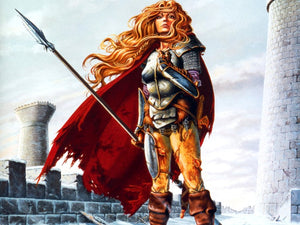 Larry Elmore had a girl, once, long ago before he moved out of the TSR pit and became a freelance artist.  She was lovely, with small pouting lips, pointed chin, and eyes that would look right through you to the horizon.  She was replaced by models, hundreds of them that have entered his work over the past thirty years, but this inorganic girl, the one from pure imagination in the early 1980s is still my favorite.  She was Larry's muse, or at least I'll argue that, because you find her in all his ladies of that era.  I miss her......
---
• Dragon Magazine • Larry Elmore • TSR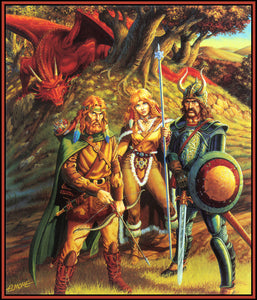 Its hard to find a gamer who doesn't like Larry Elmore.  In fact, I've yet to meet one in all my years in the industry.  He's just a great guy, and, like many male artist, he does an astounding job representing what chauvinistic male gamer's love, which is to say cheesecake.  So in honor of the 'Ladies of Larry', AND to showcase some of the incredible prints he's currently got on 20% sale on his website, I'll offer you my thoughts on some outstanding women he's produced over the years. Honorable Mention: I got to see this painting 'Caylinn's Journey'...
---
• D&D • Larry Elmore • TSR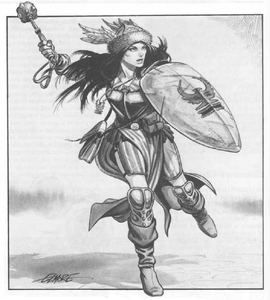 You could make that argument that Easley, Parkinson, or Caldwell shaped the destiny of D&D and TSR in the early 1980s, but in reality that is like comparing the Rolling Stones, Pink Floyd, or the Eagles to The Beatles.  At the end of the day, any sane person knows there is no comparison as they are all had a telling impact on the industry.  Below are some pieces from Larry Elmore I think changed the landscape of the RPG industry, and I'd love to hear if you agree or disagree. Mentzer 'Red Box'... Now if the Red Box isn't as...
---
• Dwarves • Jeff Laubenstein • Jim Holloway • Larry Elmore • Wayne Reynolds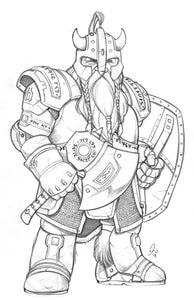 Dwarves, we've all played them at one time or another, so I thought I'd share a few that I thought were inspiring. The hefty older dwarf with the small white stash... he has a story to tell Yeah, he's going to kick someone's ass really soon... Wayne Reynolds always does a nice dwarf, and I mine did typically use a crossbow Is there anything better than a b/w Holloway dwarven god illustration? Well, maybe a Laubenstein Earthdawn smith next to an Elmore basic one? Anyone ever play a female dwarf?  Well, other than in the Slave Lords series? How about...
---
• Clyde Caldwell • Jeff Easley • Keith Parkinson • Larry Elmore • Star Frontiers • Tim Truman • TSR
Like every single non-D&D title TSR had in the mid-1980s, Star Frontiers met a quick and profound end.  I lamented it leaving the hobby, especially with the inclusion of Zebulon's Guide to Frontier Space, but those were the breaks for Boot Hill, Gangbusters, Gamma World, and this beloved science fiction series.  Whatever the case, I still love to take a look at the 'color' of the game and imagine what could have been if Easley, Elmore, Parkinson, Caldwell, Truman, Roslof, Trampier, and Holloway had gotten another half dozen years to create inside the frame.  It is one thing we will...